Techno is one of the most popular genres of dance music, and has been around so long it's unlikely that your average listener would share the same touchstones in conversation. It can be considered unapproachable and repetitive, shrill or harsh and listened to while flailing around dark rooms with strobe lights. Which isn't wrong, but there's a reason that this image exists and has endured through decades of development and variation. In my opinion, it's not possible to listen to the music and ignore the groove, and just because the combination of Techno on a good system and some colored lights is a simple one, that doesn't mean its not effective.
The music itself is characterized by pounding drums, usually created with a Roland TR-808 or TR-909 drum machine or from drum samples, and the popular synthesizers of the 80s, particularly digital synthesizers and samplers that were becoming more accessible as prices were falling from the exorbitant levels of the 70s. The musicians were mostly using whatever they could get their hands on, with some instruments passing through many of the same hands, and building small studios in their bedrooms. Despite this, the Techno music still sounds quite good and has aged better than a lot of electronic music styles, a testament to the accomplishments of artists not constrained by their equipment, but really embracing its sounds.
Techno remains one of the most popular styles of electronic dance music in the world, and its influence can be seen internationally in pop music. While inspired by music from all over the world, Techno is a distinctly American form and is probably the music the motor city is most associated with today. The best introduction is a look at its origins in Detroit and the 1990s when it gained its greatest exposure with the rising popularity of raves in Europe.
The Belleville Three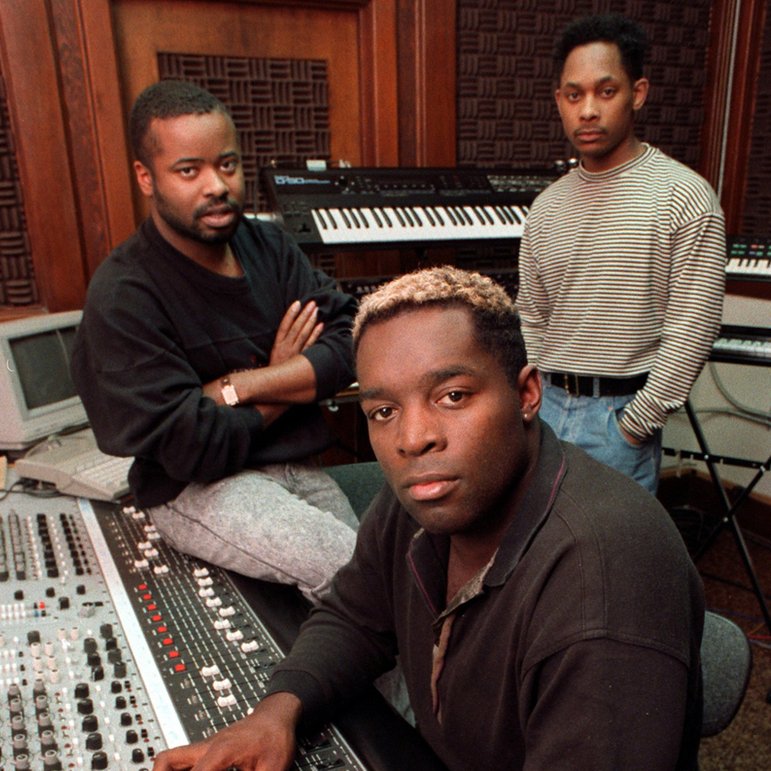 Specifically, Techno is the name attributed to music that was produced by a small group of Detroit musicians known as the Belleville Three in the 80s. Belleville was a middle-class suburb of Detroit, with many families of employees of the industry in the Motor City, and was home to Juan Atkins, the "Godfather" of Techno, Derrick May, the "Innovator", and Kevin Saunderson, the "Elevator". Atkins was the first to achieve any success making music, forming Cybotron in the early 80s with Richard Davis and later forming his own label in 1985 to release the solo project Model 500 and seminal No UFOs track. He is also largely credited with coming up with the entire concept, taking the term from the writing of Alvin Toeffler and the idea of "techno-rebels", people that would embrace technology during the information age.
Atkins also performed a major role in the development of Derrick May and Kevin Saunderson, who were friends and shared a passion with Atkins for dance music and that of Parliament, Yellow Magic Orchestra and most obviously the machine music of Kraftwerk. A key figure in Techno music who is not an artist, however, is the Detroit DJ Charles Johnson, aka Electrifying Mojo, for his popular radio shows. The Electrifying Mojo is referenced by seemingly every Detroit musician for his eclectic shows and for presenting an impressively diverse collection of music to the listeners in the area, offering some explanation as to why the music that came from there is so unique.
As the music began to spread to the clubs in Detroit, Chicago and NY, many listeners in Europe were exposed to Techno when Virgin Records released the Techno! The New Dance Sound of Detroit compilation in 1988. When asked to describe the sound, Derrick May offered the marketable quote "George Clinton and Kraftwerk are stuck in an elevator with only a sequencer to keep them company", and that's largely the quote that has characterized perceptions of early Techno.
Of course, the Belleville Three story doesn't really reflect the greater music scene in Detroit and its artists, particularly the role of Eddie Flashin Fowlkes, and mostly fits a simple narrative about Techno's origins in Detroit in the 1980s. It also omits the like-minded music coming from artists like Afrika Bambaataa in NY or Egyptian Lover in L.A., but it helps establish the legacy that Techno artists would carry on and expand.
Major Songs
Cybotron – Clear
After releasing Alleys of Your Mind and Cosmic Cars in the early 80s, Juan Atkins and Richard Davis released Clear in 1983 and it immediately became a huge influence on the burgeoning electro and hip-hop sound. Clear is definitely on the list of perfect Techno tracks, and was the first one.
Derrick May – Strings of Life
Derrick May released Strings of Life on his Transmat label under the Rhythim is Rhythim name. Known as the "Innovator", Derrick May has made and released some of early Techno's most unique records. His Strings of Life is one of the most influential of all of the early Techno records and notable for not feature a traditional bass line in any sense.
Inner City – Big Fun
One of the most straightforward pop songs to come from the first wave of Detroit Techno, Big Fun launched the career of Kevin Saunderson when it was put on the Techno! The New Dance Sound of Detroit compilation in 1988. I found a good video from Saunderson talking about how he made the track here.
Eddie Flashin Fowlkes – Goodbye Kiss
Fowlkes was a roommate with Derrick May and released some of his records on his Transmat label, and his contribution to the development of Techno music is enormous. It is unfortunate that he is not mentioned as often as "The Belleville Three" but he was every bit a part of the music's development, and his place in Detroit music history is well established. This song was released in 1986!
The Second Wave
It is during the second wave of the 90s when Techno was established as a dominant form of electronic dance music and the next generation of musicians that listened to Derrick May and other DJs spin at the Music Institute club in Detroit started making their own music. The group with possibly the biggest influence, conceptually and musically, was Underground Resistance. In its earliest period, UR was primarily "Mad' Mike Banks, Jeff Mills and Robert Hood along with a large supporting cast of DJs and artists, and exhibited an astoundingly anti-corporate ethos that earns frequent comparisons with Public Enemy. While its members are famous today, UR refused to personalize their music to the point of wearing masks and avoided photographs while DJing, consistently letting the music speak for itself.
Underground Resistance had its most successful period in the early 90s when Banks, Mills and Hood were playing integral parts in the groups rise and became superstars in Europe. The organization paved the way for many Detroit artists from the city to succeed, and were often the ones to promote their music, though many moved to Europe to earn a living from it in a way they could not in America. Their music still sounds very current and it's easy to see how much UR contributed to modern Techno and why they are so revered. As any interview with the original members attests, the groups' commitment to the music and to its principles was total and its goal of changing the minds of its listeners sincere. Especially American listeners, which the group struggled to reach with its message despite the exposure they received elsewhere. UR still occasionally releases records as a label and operates a Techno music museum in Detroit while its many former members still tour and release records.
There are many artists that thrived during this period, and their music illustrates the diversity of the Techno coming from Detroit during that time. Notably, Gerald Donald and James Stinson formed Drexciya in the early 90s and conceived of music produced by and for a race of mermaid/merman descendants of pregnant slaves thrown overboard ships traveling the Middle Passage to America, giving birth to creatures that created a technologically advanced civilization in the Atlantic. Two of whom traveled the rivers of North America to the Great Lakes. Donald and Stinson refused to ever publicly acknowledge that they ever created Drexciya, again letting the music speak for itself. Stinson died suddenly in 2002 from a heart condition, and Gerald Donald continues to make music and tour with his wife under the name Dopplereffekt, among others.
Carl Craig is another enormous figure in the second wave of Detroit Techno, working under the early tutelage of Derrick May and releasing albums under a lengthy list of aliases including Innerzone Orchestra, Paperclip People and 69, along with his own name. The variety of music produced by over the years Carl Craig is incredible, with 1999's collaborative effort Programmed being an amazing example of how much musical territory Techno artists covered.
On the other side of the Detroit river was Windsor, Ontario, a similarly industrial city and home of Richie Hawtin, who formed the Plus 8 record label with John Acquaviva and released some seminal Techno records in the 90s, including Hawtin's own music under the Plastikman and F.U.S.E. aliases. While not from Detroit himself, Hawtin is a figure that is as a part of the growth of Techno, and the Detroit sound, as any of the founders.
Major Songs
Underground Resistance – The Final Frontier
One of Underground Resistance's most popular tracks, and a great example of their uncompromising sound. There is not one ounce of fat in this song, it starts with just the drum machine and adds a TB-303 bassline, and builds the rhythm before a grainy string sample comes in about a minute in. And it's a combination of the few elements that make its extended length compelling.
X-101 – Sonic Destroyer
Underground Resistance released Sonic Destroyer and it quickly became a rave classic. It was the first release of the newly created Tresor label, which was formed along with the Tresor nightclub opening in East Berlin in 1991. Hugely popular in Europe, Sonic Destroyer helped establish Tresor as one of the biggest Techno labels and was released during a landmark period in Underground Resistance's history. Banks and Dimitri Hegemann of Tresor discussed the record during an interview at the Berlin based Red Bull Academy here.
Robert Hood – The Struggle
Robert Hood is still very active in Techno music, splitting time between preaching and DJing while also releasing music under his many aliases, including Floorplan, a group that now includes his daughter, Lyric. Hood's music ranges from the minimal Techno that he helped pioneer to gospel house tracks.
Drexciya – Bubble Metropolis
Released in 1993 under the Underground Resistance label, Drexciya's Bubble Metropolis is one their earliest records and is a great example of their "aquatic" sound.
Innerzone Orchestra – Bug in the Bassbin
Carl Craig released this song in 1992, and it proved to be highly influential for electronic artists, particularly in the UK where it was played by DJs like Mac and Dego of 4Hero and Fabio and Grooverider, and sometimes spun at 45 rpm to make it sound like an early drum & bass track. Regardless of the tempo, this song incorporates a wealth of jazz influences to produce something that doesn't sound like any other Techno from the time. It sounds very modern, and demonstrates why Carl Craig is considered one of the most successful and innovative producers of the Second Wave.
69 – Ladies & Gentlemen (1991)
I couldn't have just one Carl Craig track on here, 1991's 4 Jazz Funk Classics is still pretty stunning. The man is just fearless and so talented, the music is inimitable.
Plastikman – Spastik
Spastik, probably Hawtin's most famous track, is an extended demo of the Roland TR-808 and an example of the hypnotic rhythms that Techno is known for.
Jeff Mills – The Bells
Originally known as "The Wizard", Jeff Mills was a legendary DJ and formed Underground Resistance with Mike Banks in 1989 before working solo in the early 90s and releasing classic tracks like The Bells. He is also an accomplished artist. Mills is held in such high esteem for his contributions to music that he was bestowed the Chevalier des Arts et des Lettres in France and held a four-month residency as DJ at The Louvre.
The Aztec Mystic – Knights of the Jaguar
Released in 1999 by DJ Rolando, a member of Underground Resistance, Knights of the Jaguar was UR's greatest commercial success and proved to be such a big hit that Sony Germany attempted to bootleg and sell it, but ultimately relented after UR incited boycotts and protests of Sony BMG.
Underground Resistance – Jupiter Jazz (1992)
Another classic from Underground Resistance, when I first heard this song I couldn't believe it was over 25 years old. It still sounds better than most Techno you'll find, or really any other dance music. A great example of the simplicity in sound and assuredness that the group had in the early 90s. The chord stabs date it a bit, but don't take away anything from the song.
Recommended Additional Material
I have made a Spotify tracklist for you if you want some additional listening beyond the tracks listed.
The High Tech Soul documentary is about an hour long, and includes interviews with many of the pivotal figures in Detroit Techno.
I Got a Tour of Detroit's Techno Museum, and Found a City That Still Dreams