Steely Dan is one of the reasons that I got into records, and after buying these records I want to buy a better record player to get as much out of these records as I can. The quality can't compare to perfect digital versions, but with this band and its obsessive attention to the sound of the album, I am sure there is a lot that I am missing. What I am saying is, listening Steely Dan is a great way to test out your audio system, and for that alone they are a great purchase for any record collector. I love the group, and found a seller on Discogs that had Pretzel Logic, Katy Lied and Gaucho so I got all three, along with a couple others. Since I was only paying a few bucks for a Manu Dibango album and Miami Sound Machine's Primitive Love, I thought I got a good deal on all five for less than $30.
Manu Dibango – Ambassador
Great early 80's album from Cameroonian Manu Dibango, who plays all solo saxophone and marimbas on the record. Known mostly outside of world music for Soul Makossa and "Mama-say, mama-sa, ma-ma-ko-ssa", 1981's Ambassador is full of awesome grooves and was recorded in Kingston, at Compass Point in Nassau, in New York, Paris and London. This is the first Manu Dibango album I have listened to in its entirety, and I really enjoyed the wide styles incorporated on this album, including funk, soul, jazz and dub. Its a great first album to buy from Manu Dibango, and I'll be looking out for any albums from this UNESCO Artist For Peace that I can find.
Listenability – 4 LPs Mood – 3 LPs Danceability – 3 LPs Value – 3 LPs
Miami Sound Machine – Primitive Love
You may be thinking, Henry, you jackass. Whatever you paid for this, you paid that much more than it's worth. And it's true, it's tough to listen to. The drum machines sound like really cheap drum machines, the FM synths on some songs sound like they were recorded in a Sam Ash. It sounds like people just programming pop sequencers and samplers, but sometimes it's better than the awful 80's schlock that can sound more composed. Conga was an enormous success for them, too, but the ballads are mostly also-rans. I think I bought it because I believed there would be some venue for this music, and I love the gruyere that is Primitive Love. I like it so much more than everything else on this album, and I really wish they just went for it every time like they did in the title track. It could be the Cuban Giorgio Moroder/Miami Bass crossover of my dreams. But if you like Gloria Estefan, this is one of the best albums in her long career.
Listenability – 1 LP Mood – 1 LPs Danceability – 3 LPs Value – 1 LP
Steely Dan – Pretzel Logic
1974's Pretzel Logic was the group's third album, and second with only Donald Fagan performing vocals. The music is incredible, with some of the musicians in the session business, and the songs are all terrific. Listening to it again, I'm still surprised how uniformly excellent each song is, with most about three minutes. The B-side of Rikki Don't Lose Your Number is Any Major Dude Will Tell You, a sincere attempt to reassure a down friend with enough cleverness to avoid becoming melodramatic. The title track was also released as a single, and is my favorite on the album.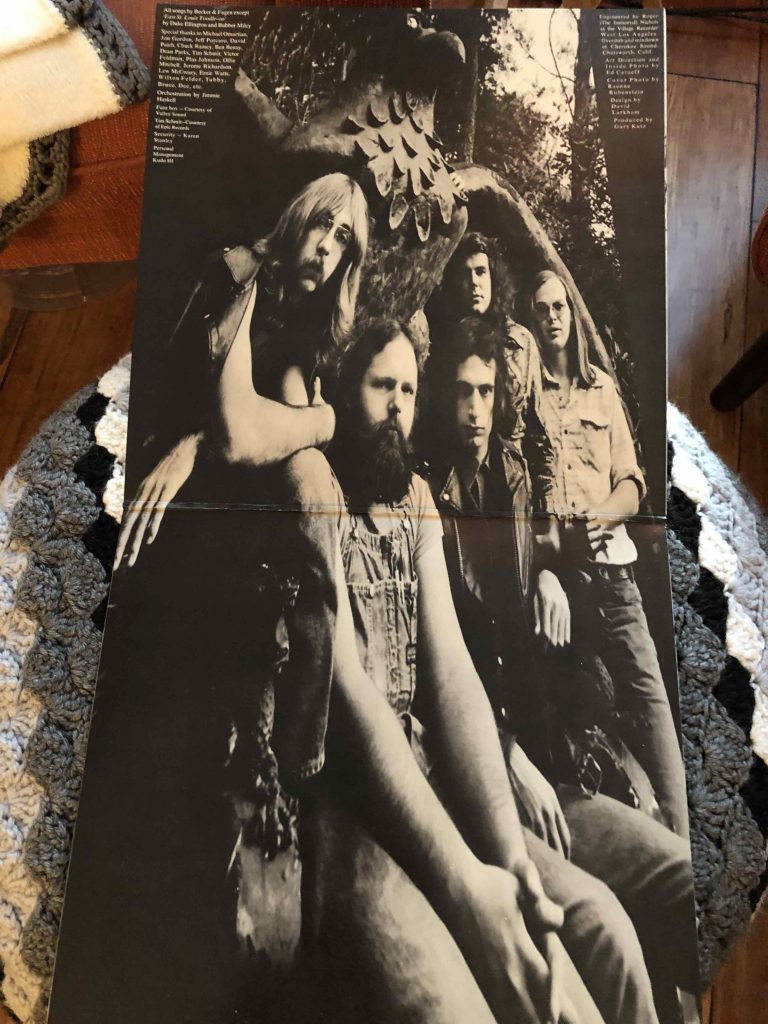 The guitar playing is also very bluesy and interesting from Denny Dias and Jeff "Skunk" Baxter, who would go on to join The Doobie Brothers immediately after this album was recorded. Baxter also had a second career as a defense consultant due to his knowledge of electronics and aviation and research into missile defense systems. After buying this only to find Katy Lied inside, I just went online and bought both for about $8 in near mint condition.
Listenability – 5 LPs Mood – 4 LPs Danceability – 2 LPs Value – 5 LPs
Steely Dan – Katy Lied
The followup to Pretzel Logic and released the next year, Katy Lied picks up with the same style of elaborate arrangements and absolute best from every musician involved. And the songs average about three and a half minutes, which is unbelievable for all that's packed into each song. The musical styles range from overdriven and bluesy to glassy and jazzy, and the way that it becomes such fluid pop has to be attributed to the incredible songwriting talent of Fagan and Becker.
I'm still surprised by how much I am enjoying these records after having listened to the songs on them so many times, but listening to the album itself straight through has a different sort of appreciation. While the music Steely Dan made over a half-decade is consistently amazing, there are a lot of highlights, especially Doctor Wu, on Katy Lied. But in its entirety, it is incredible even now to hear all at once. I'm sure that I'll always be able to play this album and enjoy how impressive everything sounds.
Listenability – 5 LPs Mood – 4 LPs Danceability – 2 LPs Value – 5 LPs
Steely Dan – Gaucho
The Cuervo Gold, the fine Colombian, the slickest Steely Dan album. 1980's Gaucho, named after an Argentinian Cowboy, was released three years after Aja and took about two years to record due partially to Fagan's and Becker's perfectionism and personal problems. Becker was hit by a taxi in NYC and remained in a wheelchair during the recording of the album and became addicted to drugs, contributing to a strained relationship with Fagan. The next Steely Dan album would be released 20 years later, and would win a Grammy for best album.
Gaucho is a great album, overproduced, but full of excellent songs that you'd expect from the group. Side A starts with Babylon Sisters and Hey Nineteen, and subsequently every song after doesn't reach the same high, but it's still so much better than so much music that it's among the Steely Dan albums that you should listen to if you like the group.
Listenability – 4 LPs Mood – 3 LPs Danceability – 1 LP Value – 4 LPs