I'm amazed that we're going back 30 years for this Jungle because it still sounds very modern to my ears, more so than anything but the best Techno from Detroit. I'd like to believe its a credit to the music, and not because I'm an old man, as I was introduced to this music in my teen years. Half a decade after appearing on pirate radio in the UK, a lot of similar music filtered through to mass audiences through popular adoption in all genres of music and in video game soundtracks, particularly racing simulation games. But before wider acceptance and before Drum & Bass became one of the dominant genres of electronic music, Jungle was something refreshingly new that appealed to disenchanted ravers and a number of British people who felt that mainstream music catered little to their tastes.
Jungle rose from the malaise of the Rave scene in the early 90s, after Breakbeat Hardcore ran out of ideas and ravers searched for something new. With Thatcher long replaced, the glory days of Acid House were behind them and Rave music had to move on from the promised utopia that had very much not arrived. Musically, Jungle drew from an enormous well of influence on popular music in the UK: British Jamaicans. Jamaican music and sound system culture inspired generations of British musicians, manifesting in uniquely British styles like 2 Tone, Trip-Hop and Grime. Jungle adopted MC toasting, deep bass and heavy Dub-style studio effects from Jamaican music to complement the frantic tempo.
The sound of Jungle can be identified primarily by two things: ultra-fast breakbeat rhythms and a deep bass akin to a Roland 808 bass drum sound. The drums are sourced from a single piece of music, sampled more than any other – The Winston's "Amen, Brother" drum break. This seven second drum loop, recorded in 1969, forms the percussion samples of nearly every proper Jungle tune. Sped-up, slowed-down, pitch-shifted, the Amen break works at every tempo, and its hard to believe it'll ever wear out after innumerable tours of duty inside Akai samplers the world over.
The origins of Jungle can be traced to a handful of artists that developed the sound over years, so that when Jungle briefly, uneasily broke into the mainstream in 1994 it was already breaking in different directions. It is very easy to separate all electronic music in the UK before Jungle and after, as by the mid 1990s the Jungle sound was the dominant influence in UK electronic music. Two groups that helped to define the sound along the same lines: Shut Up and Dance and 4Hero.
Artist Profile: Shut Up And Dance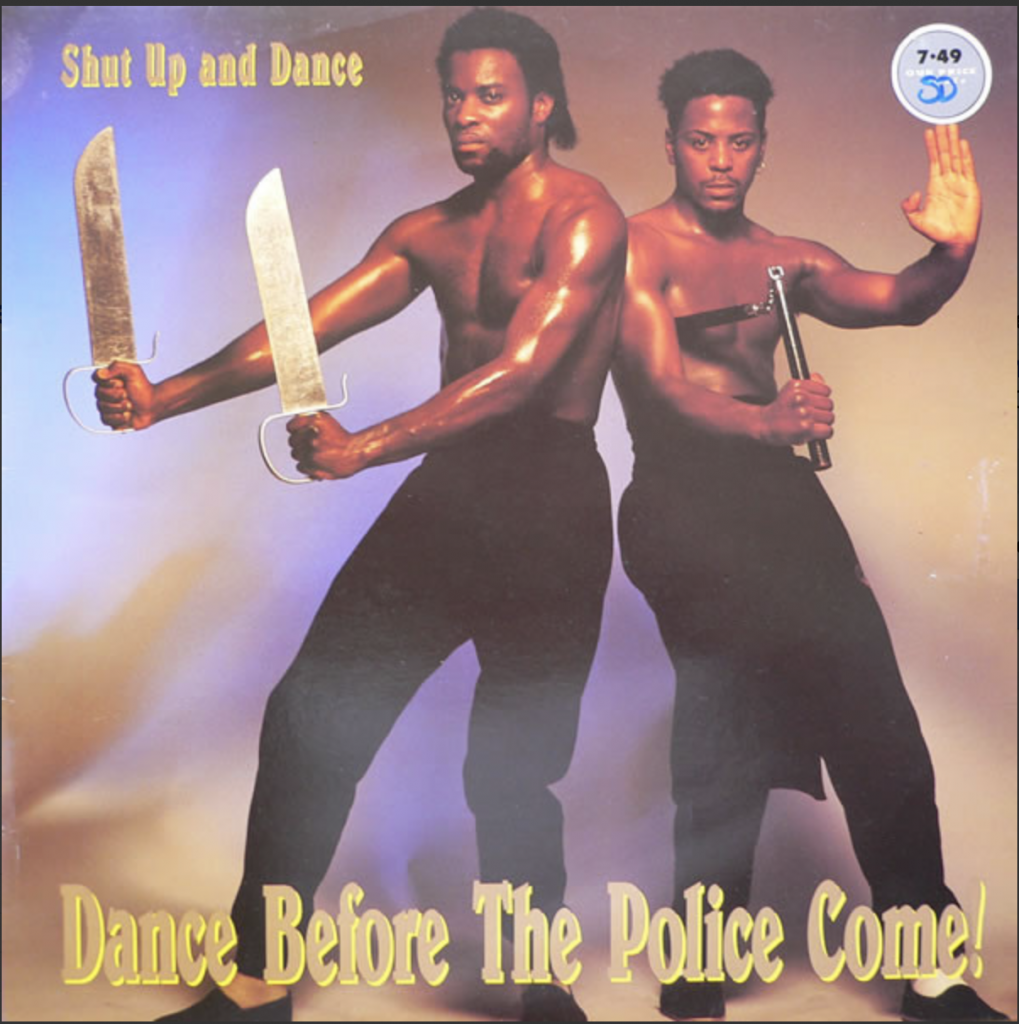 Meeting in school in the ethnically diverse London Borough of Hackney in the early '80s, Philip 'PJ' Johnson and Carlton 'Smiley' Hyman were a large part of sound system culture throughout the 80s and took a lot of inspiration from Hip-Hop in the U.S., particularly Public Enemy. Under the name Shut Up and Dance, the two began releasing music in 1989 under their own label to immediate acclaim. SUAD made huge strides immediately, releasing hits like £20 to Get In and Lamborghini before officially producing the music for the Destouche brothers, who had been working with the London Unity sound system themselves under the Ragga Twins name. In 1991, Ragga Twins released Raggae Owes Me Money, an enduring classic that set the mold for Jungle music and reached #26 on the UK Album chart. While the title was a reflection of what was a lack of recognition felt by the Destouche brothers for their efforts, the album has since become a landmark in the development of electronic music as one of the most influential.
Fusing Raggae vocals, breakbeat rhythms, liberal use of sampling and deep bass, Shut Up and Dance synthesized a unique blend of very Black musical touchstones into something very new, but very familiar to Black Britons, that caught on in a major way. By the early 90s, as the House and Techno influence waned, artists were taking inspiration from Jamaican Raggae and Dub along with Soul and Hip-Hop music from the U.S., and laying the foundations for Jungle's predominance in dance music later. One such artist, 4Hero, remained one of the most innovative artists throughout the decade and helped to develop the music from its early origins into the new forms it would take in the 2000s.
Artist Profile – 4hero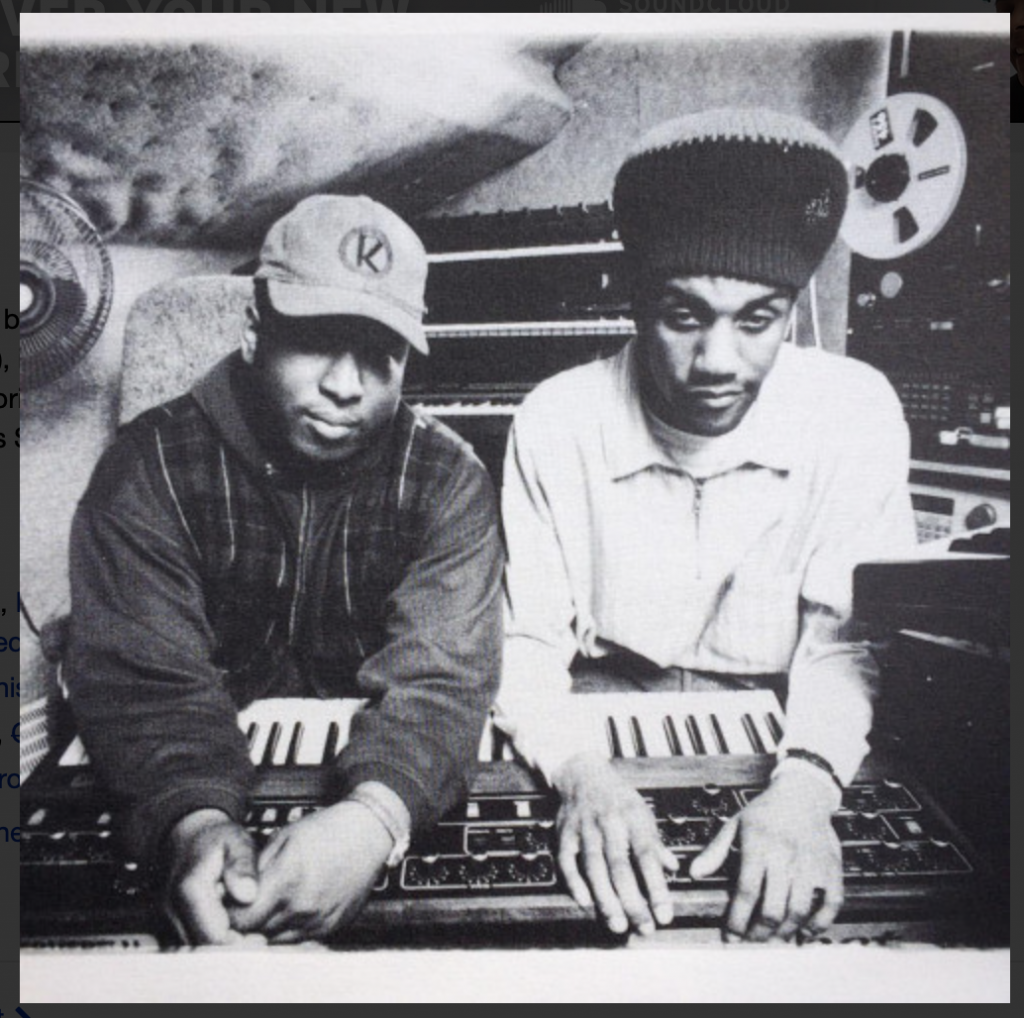 Marc 'Marc Mac' Clair and Dennis 'Dego' McFarlane operated a sound system, a pirate radio station and one of the most impactful labels in 90s dance music, Reinforced Records. They also made some of the most challenging music of the decade and were at the forefront of electronic dance music innovation for years. Initially exploring a strain of Breakbeat Hardcore that verged toward the darker side of Rave music and responded to the chemically-induced euphoria of ecstasy with paranoia and fear, 4hero released classics like 'Mr. Kirk's Nightmare' and 'Journey from the Light' that forever put an end to the mindless hedonism of Rave music and ushered in a new era of dance music. Drawing attention to everyday terror lurking on the margins, but always present, Reinforced Records released very danceable music that emphasized an oppressive sense of confusion and fear.
Mac and Dego intuitively understood that the Rave music had to move on from the failure to deliver on the promise of the second Summer of Love, just as the first had failed. The brush with authority experienced by Rave music also exposed much of its audience to an ugly, brutal force that affected many people's lives before they had a conscious thought. 4hero, along with Reinforced Records artists like Goldie and Doc Scott, created a futuristic and dystopian sound that was heavy on atmospherics and hard-hitting percussion. In less than 10 years, 4hero created darkcore, contributed significantly to the development of Jungle (often under the Tom & Jerry alias) and helped blazed a trail for what would become Drum n Bass. And then they continued to explore new territory and generate acclaim for another decade after.
Technological Advancements
The falling prices of samplers and computer sequencers in the early to mid-90s was critical to the development of this music, so that with an Akai S950 and an Amiga you could produce your own Jungle track! (See this for an example of a more atmospheric Jungle style track produced this way) But along with the production equipment itself, the music flourished during a time when affordable consumer electronics made radio broadcasting accessible to a new generation of pirate radio operators. While Pirate Radio had been a part of UK culture since the 1960s, when broadcasters sent signals from ships in international waters, technological advances made it possible to reach large swaths of listeners from the top of a tall apartment complex. And move the equipment quickly as part of a cat-and-mouse game with the UK's Department of Trade and Industry regulators. As a result, listeners, especially ethnic listeners, had the means to play music that commercial, mainstream radio was not interested in playing. And promote political ideas that commercial radio was also definitely not interested in broadcasting.
Jungle would reach the height of its popularity in 1994, around the time that M Beat and General Levy released "Incredible". Though the breakthrough had been years in the making, the dedicated efforts of producers, emcees, pirate radio operators and rave organizers still met resistance for its uncompromising sound. Many audiences would also never accept Jungle music, and perhaps that's just as much a limit on the genre's success as Jungle artists own unwillingness to accept the music industry itself. After Incredible, Jungle would eventually recede after its unlikely success, but would pave the way for Drum 'n Bass, a genre label that attempts to accommodate all of the new music that sprung out of Jungle's explosion into the mainstream. And although Incredible only reached No. 74 in the top singles of 1994 in the UK, with two Ace of Bass songs ahead of it, Jungle guided electronic music away from the stale aimlessness of Rave music into something very much alive and galvanizing at the time.
Ragga Twins – Wipe the Needle (1991)
When I first listened to Raggae Owes Me Money I was floored. I must have listened to this album on repeat for a few days. Hooligan 69 was my most played song of 2020. Shut Up and Dance, already a success on the Hardcore scene, produced this 1991 classic after teaming up with the Raggae duo of Deman Rocker and Flinty Badman. The variety of sounds on this album is incredible, nothing else really sounds anything like it and its influence on British music is inestimable. Full album playlist
4hero – Journey from the Light (1992)
One of 4hero's earliest songs, Journey from the Light is a great example of where the duo was taking rave music in the early 90s. Many of their signature sounds are here – synthesizers, pitch-shifted and distorted samples, and though it doesn't sound much like the more popular Jungle tracks that would follow, its hard to think of their success on the charts without the influence of 4hero.
A Guy Called Gerald – 28 Gun Bad Boy (1992)
Gerald Simpson's proto-Jungle work place him at the forefront of another British musical movement and how how willing he was to try something new. Sounds dated now, but this is one of those bridge records that got us to Jungle from Rave/Hardcore with the hallmark Jungle sounds, breakbeats, deep bass and psychedelic Dub effects.
The Family Foundation – Express Yourself (1992)
A proto-Jungle track that is kind of not sure (at least in the music video) what it wants to be, featuring both happy Hardcore pianos and some female vocals with some toasting interludes. Not quite there yet, but you can see some of the elements coming to the fore, enough to put this more in the early Jungle category than Hardcore.
UK Apachi and Shy FX – Original Nuttah (1994)
You know, I am not a fan of this song, but I need to include it as a document of the time. It was a huge success as the first Jungle song to reach the top 40, and a breakthrough track for Shy FX, who would go on to have a successful career in the music business.
General Levy – Incredible (1994)
"Incredible" was the first Jungle track to reach the top 10 in the UK, and can be considered the quintessential Jungle anthem. Ali G's character liberally cribbed his language from this one song, which was so popular that General Levy was confident in claiming to "run Jungle".
DJ Zinc – Super Sharp Shooter (1995)
Super Sharp Shooter samples both LL Cool J and Method Man, contains an Amen break, has a low-rolling, heavily envelope-filtered bassline and an extended intro. Ticks all the boxes, I think.
Origin Unknown – Valley Of The Shadows (1993)
Amazing tune from 1993, it sounds like a few songs crammed into one 4:30 track, which only adds to its strange appeal. Pretty much the entirety of the song is sampled from a Future Music magazine CD, but it shows how far you can get with just a sampler and your creativity.
Goldie – Inner City Life (1994)
Inner City Life may be Jungle's masterpiece, arguably the culmination of the genre's explorations into more complex song structures and baroque arrangements, and one of the points of evolution into several new genres of music that would be classified inclusively as "Drum 'n Bass". Inner City Life comprises the first part of the 21 minute opus Timeless: Inner City Life/Pressure/Jah that was later released as part of Goldie's debut album Timeless in 1995. One of the definitive songs of the 90s, it is tempting to consign it to that decade and leave it, but it remains an interesting listen and Goldie's greatest achievement in an impressive career.
LTJ Bukem – Demon's Theme (1992)
The song that started the split into Drum n Bass and the start of the Good Looking label, run by LTJ Bukem. This is pretty much the song that moved Jungle in an 'atmospheric' new direction and set a foundation for Drum n Bass later.
Omni Trio – Renegade Snares (1993)
Another track that paved the way forward for Jungle music, Renegade Snares' spacey feel and intricate rhythm patterns show the nascent sound of atmospheric Jungle, a style that would carry the legacy to more relaxed listening experiences not necessarily found on the dance floor.
Tom & Jerry – Maxi(mun) Style (1994)
Great Jungle from Mac and Dego of 4hero, under the Tom & Jerry name used by the duo for a more raw Jungle sound. This might be one of the most Jungle tunes from the duo because it contains a little of everything. This is 4Hero at their prime and its arguably better than everyone else.
Alex Reece – Pulp Fiction (1995)
A two-step classic, Pulp Fiction was a jazzy Jungle tune that shows the different styles that artists in the genre would begin exploring as the music rose in popularity. A big hit in electronic music, Pulp Fiction arose after the high water mark of Jungle music in 1994 as it started to brew some new flavors, and hints towards a weirder form of Jungle just on the horizon.
Additional Materials
Red Bull Music School – Raving I'm Raving: The Spread of UK Soundsystem Culture
The New York Times – London's Radio Pirates Changed Music. Then Came the Internet.
Jungle Classics – Discogs link